WESTFALL GENEALOGY

Joseph V. Alben (2-18-1912 to 2-17-2000)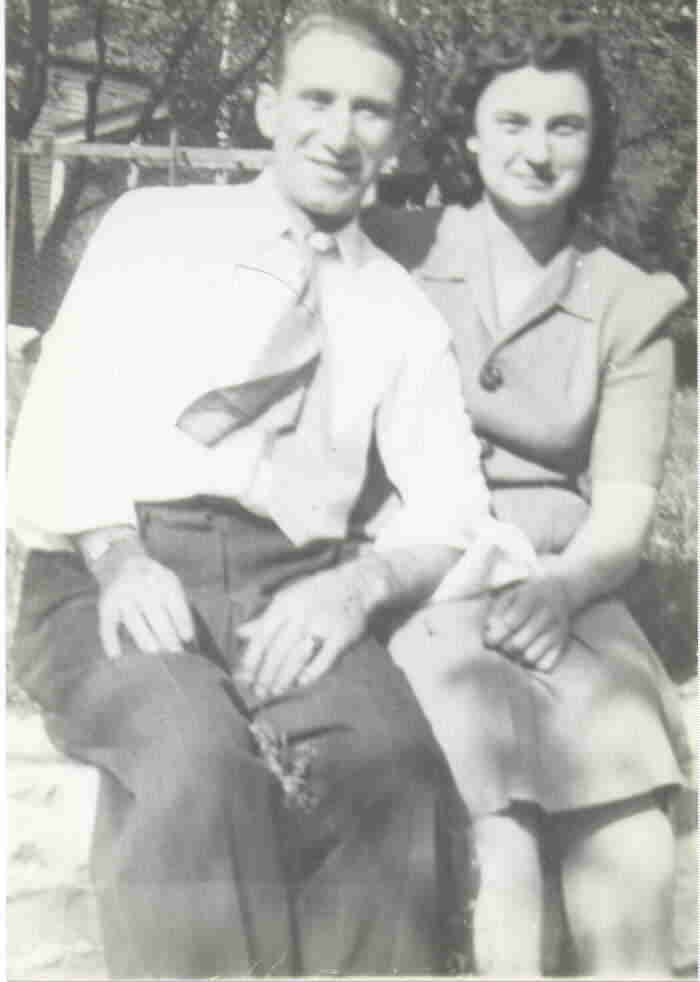 My brother-in-law Joseph V. Alben with my sister Mildred - Picture Taken In 1940's.
Here is my brother-in-law Joseph V. Alben's Memorial Notice below. He and my sister Mildred lived in Godfrey at the time of his death. He passed away in Saint Anthony's Hospital in Alton. His parents were born in Sicily, Italy, and emigrated to America from Italy. He was in the Military Service in the U. S. Army and was a World War II Veteran.
*******************************
Joseph V. Alben, 87, died at 9:50 a.m. Thursday, Feb. 17, 2000 at Saint Anthony's Hospital in Alton.
A son of the late John and Lucia (Virgo) Alben, he was born Feb. 18, 1912 in Alton.
An U.S. Army veteran, he was employed as a mill operator at Laclede Steel. He was a member of St. Mary's Catholic Church and Alton Sportsmen's Club in Godfrey.
He and the former Mildred Westfall were united in marriage Nov. 11, 1944, in Alton. She survives.
Also surviving are a stepson and his wife, Russell and Lois Thompson of Wood River, three grandchildren and their spouses, Terri and Mike Harvey of Alton, Melanie and David Moore of Alton and Lesley and Alan Kolesa of East Alton, five great-grandchildren, Nicholas and Whitney Harvey, Jenna Doolin, Tyler Moore and Alexis Heacox; two sisters, JoAnne Romano of Brighton and Josephine Mayhall of Jerseyville; and four brothers, Angelo Alben of Bethalto, Paul Alben of East Alton, Sam Alben of Brighton and Anthony Alben of Forrest Homes.
He was preceded in death by a sister, Anna Alben, and a brother, Carl Alben.
Visitation will be from 4 to 8 p.m. today at Staten Funeral Home in Alton with a prayer service at 4 p.m.
Father John Paul Klein will officiate at services at 10 a.m. Saturday at the funeral home.
Burial will be in St. Joseph Cemetery in Alton.
Memorials may be givin to masses or a charity of one's choice.
****************************
Since this Memorial Notice another great-grandaughter Lily was born on (April 20, 2000) to Lesley and Alan Kolesa.

Return to My Westfall Family Photos Page